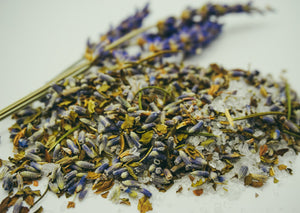 This bath tea is meant to help you take a second to get back to who you are and just breathe! Allow the cooling effect of these herbs to open up your senses and cleanse your spirit.

Rosemary, Peppermint, Lavender, Sea salt, Epsom salt
Pour directly into your bath or steep in a pot of water on low to medium heat for up to 15 minutes before adding to your bath. Cloth bag can also be used to hang from the shower allowing hot water to pass through.
*Bath Teas and steams come with one re-usable mullein (cloth) bag per purchase. If you would like additional please add them to your cart.*